In this section, you can find a quick step-by-step guide, guiding you through Graasp; Go-Lab's Authoring and Learning Platform. It explains how to start creating your Inquiry Learning Space, how to add online labs and inquiry apps to your space, how to set up the apps, how to create a space together with your colleagues, and how to share your space with your students. Use this guide to make your first steps using Graasp! You can also visit our tutorial videos on How to create an ILS, How to set up Apps and check out Graasp's tutorial.    
Remember, you can always use the Compile your manual function to download this guide.
Getting started with the Graasp Authoring and Learning Platform
Go to the site https://graasp.eu and create an account. You can start immediately. The best browser to use when working with Graasp is Chrome. If you want to, you can change the language at the top right hand side of the screen. Press "en" below the search function.
Click on the little square with the plus sign + (at the top left) and choose the option "Create ILS" (Inquiry Learning Space). Give the ILS a name and press the green button "Create ILS".
You now see the basic structure of the learning space for the students. You can change this structure (change names, remove or add subspaces) and fill it.
The content of the first five subspaces (orientation-discussion) will be visible for the students. The subspace with the name "Vault" is used for data storage. Do not remove this subspace.
Select a subspace to fill it. Select the little square with the plus sign +. You now get several options. The first and the last are hardly used; the others are explained below:

Create Document: you add a text item. You can edit the text with a simple editor.
Add File: you can add a file from your own computer (for instance a picture or a pdf file)
Add Link: you can insert an item from the internet (for example a YouTube video)
Add App: you can insert web-based applications. An overview of apps is given on: https://golabz.eu/apps
Add Lab: you can insert a virtual or a remote lab. An overview of a large number of labs can be found on: https://golabz.eu/labs
By clicking on "Add app" (or "Add Lab"), you get an overview of all apps (or labs) that are available (see picture). Choose the app you want and press "Add App".
What is the difference between a Space, Activity and an ILS?
The difference between Create Space, Create Activity and Create ILS is related to the type of content and the pre-set designs you can include in each.
A Space is similar to a folder, where you can add another space in it, a document, a file, a link, an app, a discussion (SpeakUp app), an activity and an ILS. It is meant for you to organize your Graasp dashboard, rather than sharing it with your students. In case your students have a Graasp account, they can also use these regular spaces for self-regulated teamwork relying on sharing and co-creating documents, as well as having related discussions.
If you create an Activity or an ILS, you can add the following resources in each: a space, a document, a file, a link, an app, a lab and a discussion. An Activity and an ILS are meant to be shared with your students. You can also enable Learning Analytics in both.
Activity and ILS are dedicated spaces that are integrating learning phases through subspaces. These phases are predefined through templates that can be selected and are displayed as tabs for the students in the associated standalone view.
ILS are dedicated spaces for inquiry learning activities following alternative scenarios defined by the corresponding templates, such as Basic Scenario, Find the Mistake, Jigsaw Approach, Learning by Critiquing, Structured Controversy and the 5Es Scenario.
Activity spaces are for any other types of structured learning activities, such as design thinking or self-regulated learning, MOOC and eBook.
How does it look like for the student?
You can quickly see this by pressing the icon "Sharing" at the right side of the screen. By pressing the green button "Show Standalone View", the learning space is opened in a new tab. It shows the learning space as the students will see it. You can share the URL or QR code with your students. If you have them insert a user name, then their data will be saved under this user name and will be shown the next time that user logs in. You can choose the language of the ILS for the students. Apps and labs will be displayed in this language (if a translation is available).
As the creator of an ILS, you can view your ILS by choosing the "page view" button (at the bottom of the Sharing tab). Using this button, you will be logged in to the ILS with your Graasp ID and avoid introducing fake standalone users (students) during the authoring process. A dedicated QR code is also available for this view.
Changing the content of an app
The apps often use standard terms (often in English). You can change the content of a large number of apps within Graasp. You can do this by opening the app you inserted and then pressing the little 'wheel' or gear icon (see below). A window will pop-up in which you can change the configuration.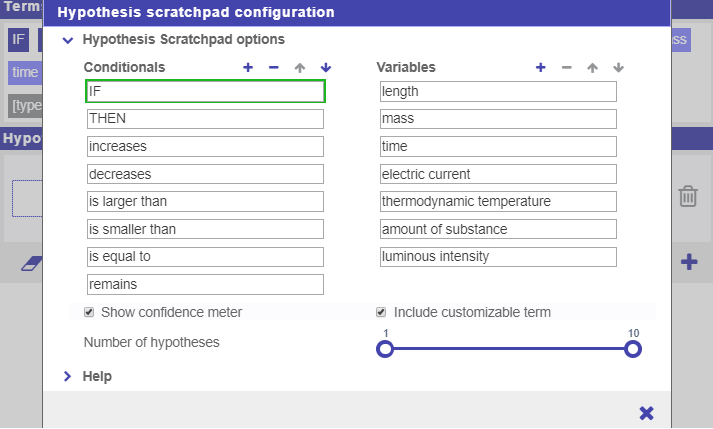 For more information, check out the Configuration of Tools video. The configuration of some labs (like the Bond lab) can also be changed in the same way.
Developing an Inquiry Learning Space together with a colleague
Within Graasp you can work together in the same space. One person creates the learning space and adds the others by clicking the icon "Members" and then "Add member" (be aware that this person should have a Graasp account). When a member is added, s/he is "viewer" at first instance. By clicking the word "viewer", there are some options. You can then make someone "Editor" or  "Owner". S/he now has the same rights as you have.
In the picture, you see the "Editor" AngeLA. This is a fictitious "person". It refers to a functionality that is called "learning analytics". For some apps "AngeLA" needs to be activated. This can be done in the settings (next to the members icon).
Furthermore, you see "Standalone Users". These are the users that have logged in at the learning space. When you press the name of one of these persons, the learning space of that person will be opened and you can see what this person did (for example, which hypotheses s/he generated). Some apps, such as the "Input box" have the possibility to quickly get an overview of all answers students gave (in the teacher view).